Mazzif bios reset. HP BIOS Configuration Utility
Mazzif bios reset
Rating: 6,4/10

1811

reviews
How to Recover BIOS / CMOS Password Using Free CMOSPwd Utility
The reset tool works great too - I needed it for 6550b. I can understand now how furious it can be for some when contacting the support of hp. When I reset mine last year I don't recall that I had a network cable plugged in during the reset. Any help would be much appreciated Thanks Cheers Frank bin file is not specific to a model, it is specific to an individual notebook. Anything you try from this blog is at your own risk! An example command will look like this. I will work on your issue and ping you. Check for more specific information.
Next
[SOLVED] HP Protect Tools BIOS Password Admin Override
I just don't have a solution for that model yet. Usually the jumper locates in different places of the motherboard in terms of laptop and desktop. Sorry for the cheese video, but I wanted to show something. For this reason, I'm going to guess that no internet connection is made during the process. No support on this by any means, use at your own risk, but yeah, enjoy! Even though I'm actually grateful to the support the spent such long time even while my machine is not until guarantee. Any changes requiring a reboot must still occur before the change takes effect.
Next
Reset HP Elitebook BIOS/Administrator Password
Both links will be presented here in this post. So as of November 2012 the guy still works there, and is still helping people somehow. I used Open Watcom C v2 Compiler. On this base i have modified spabkey. I figured out that you can use a hex editor to edit the sbapkey. With your expertise of the tech world you briefly look over the device and see that it is a fresh installation of Windows 8. Any help would be highly appreciated.
Next
hp elitebook/probook bios password reset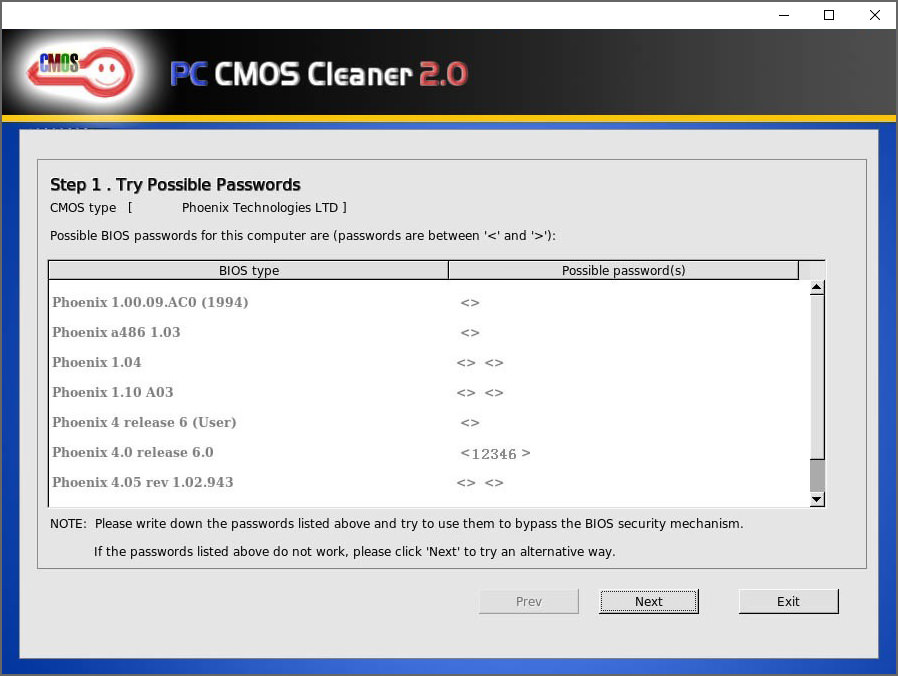 The main challenge is that you should find the correct location. I tried that on Probooks 4520s and 6540b. Jaime Hello Jaime, thanks for the information you've provided. Boot to Usb, select first time run, select 1 for 6550B, press any key to reboot, press F9 to select Usb boot, select option 2 for 2nd run, choose 1 again for 6550B. See the example pictures below. I have tried countless times to get this resolved. You can just search for it for it.
Next
How to Reset the BIOS Password on HP Computer

You can a free version and install it in your computer and have a try. When I Have my 10, I will release the software. Select the number that corresponds to your model again, and press Enter. If anyone has a model from the 2nd list, and would like to test and help me confirm that would be awesome. Also there is more of a risk of the program not working as your laptop is not on the supported list. The app has been updated to v2.
Next
break stuff majorly: Remove the BIOS password on the Probook 6560b
Want to get more detailed introductions about reset Windows password with Windows Password Genius Advanced? After struggling with the many crashes, freezes, hangs and force resets that come with this territory you finally decide that it's time for an upgrade. You may want to remove your private information from this public forum--your serial number, email, and phone number. I haven't been able to confirm that myself as I don't have that model in hand. Please be aware that you do this at your own risk. This is the version that I've been writing in C and it's just about ready for release! Save the modified file and name it something like test-bios.
Next
How to Reset HP Elitebook Administrator and BIOS Passwords
Again, you will have a model selection choice. I tried it again, and it worked like a charm the first time in. Hope that helps someone with decryption, maybe. If you hit a bug or snag, sorry, let me know and ill fix it. This was not the username of the support rep who emailed me. I had one person say they cleared their Proboo 6470b. Lira, This is separate issue which is outside of the scope of this post, unfortunately.
Next
Reset HP Elitebook BIOS/Administrator Password
You can now Import your information and make a key. This was originally for myself, but I have opened up to the community. Hello Jaime, Thanks for the information. Contacted hp and kept talking with several positions at support but seems no one was able to give a satisfying answer. Anonymous Hi, sorry, there are many twists and turns in this discussion. Some keys for one model with work on another, and yet not on a 3rd. Also, I'm going to go ahead and leave my smc.
Next
HP BIOS Configuration Utility
I used a hex editor to find the uuid in the smc. The currrent Bios does not support this feature. You encourage people to buy notebooks that are sold illegal with password protection? There is no charge for the service. There is a new 'Make All' feature that will produce every single possible key that even I could produce. That's exactly what other customers have reported. There is no guarantee of success using this tool, even on units that are marked as 'confirmed'. See the below picture for an example.
Next